Climate change continues to be a high priority across all industries, particularly the energy sector. As the frequency and severity of natural disasters increase, so must the ability of the electrical power grid to withstand and recover from disruptions in order to maintain essential functions and services.
These severe weather events are among the leading causes of large-scale power outages globally. According to the World Meteorological Organization, the number of weather-related disasters has increased by a factor of five in the past 50 years. It is essential for power grids to be able to adapt and recover quickly to minimize the impact on global economies and communities and ensure the continuity of essential functions and services.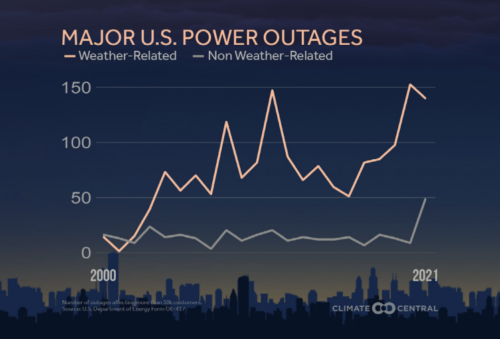 Source: Climate Central 'Surging Power Outages and Climate Change' Sept 14, 2022
https://www.climatecentral.org/report/surging-power-outages-and-climate-change
Most outages will damage or impact generation sites, large transmission lines, or substations causing widespread disruption to essential services and economic activity. By planning and executing a network to improve grid resilience, while the impact is not completely mitigated, the time taken to restore power and minimize customer impact is significantly reduced.
Source: The Institute of Engineering and Technology – Resilience of the electric distribution systems: concepts, classification, assessment, challenges, and research needs
https://ietresearch.onlinelibrary.wiley.com/doi/10.1049/iet-stg.2019.0176
Weidmann offers a range of materials, services, and products that support grid resilience projects, prevent failures, and improve the overall efficiency and reliability of the grid. Our services division can support the development and specification of assets that provide technical support to help utilities develop risk management strategies, design new infrastructure, and optimize their operations. Additionally, we provide insulation materials that enable extended asset capability and digital monitoring devices to provide real-time visibility of asset performance in the field.
For more details, see below or contact us for further information.
Transformer Insulation Materials
Advanced high-temperature transformer insulation materials are an important tool in the development of a new innovative grid resilience plan which encompasses improving transformer reliability and efficiency, reducing the risk of failure, and extending the transformer lifespan.
INSULutions® DPE
Thermal Class: 130 °C in mineral oil / 140 °C in ester liquid systems
<Click Here> for more information
NOMEX® High Temperature Insulation Materials
Thermal Class: 180 °C
<Click Here> for more information (Paper)
<Click Here> for more information (Board)
Weidmann Technical Services
For further information on the range of transformer-related services provided by the Weidmann Engineering Group <click here>
Monitoring
Online monitoring of a transformer or network can form a key part of an advanced maintenance plan, increasing your ability to maximize up-time through prioritizing predictive maintenance actions. Not only does this increase efficiency, but it also enables the operator to use accessible data to manage the utilization of assets more effectively.
For more information on monitoring solutions <Click Here>