Weidmann's InsuLogix ® SGS monitor is a transformer monitor that continuously calculates the winding hotspot temperature and loss of life of transformer insulation based on the measured values of oil temperature and load current. Because the InsuLogix ® SGS displays both liquid and winding temperatures, it reduces the system cost and simplifies installation.
For those interested in monitoring renewable transformers, the InsuLogix® SGS has proven to be a cost-effective reliable solution that can be configured to detect loss of life to international standards in both dry type and oil-filled transformers.
To receive specific information on how the product can be configured for your renewable application
Click Here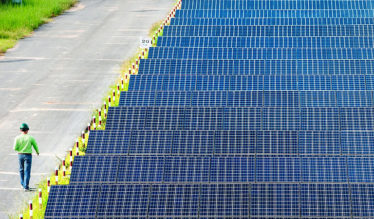 Discover the advantages of the InsuLogix® SGS
This smart gauge replaces your existing analog liquid temperature gauge with digital features such as: Liquid Temperature, Calculated Transformer Hot Spot, and Loss Of Life
The device includes an universal power supply that can be connected to an AC or DC power source within the ranges of 90 to 264 VAC (47 to 440 Hz) or 120 to 370 VCD
The InsuLogix® SGS Relays can be used to activate cooling stages and provide alarm and trip functions
The InsuLogix® SGS provides analog, dry contact, DNP3, and MODBUS communication to SCADA with the latest health condition on any size transformer with a thermowell
The instrument includes a test feature that automatically simulates a temperature increase to simplify testing the relay settings
The InsuLogix® SGS has the flexibility of including other special functions required by the user through a USB interface.