InsuLogix® RFM
Retrofittable Fault Monitor
The role of InsuLogix® RFM is to provide a visible external indication when arcing occurs inside the transformer tank causing an over-pressure condition. The device's red indicator serves as confirmation that a fault has occurred within the transformer, and the unit should not be re-energized for safety reasons. The InsuLogix® RFM is sensitive enough to detect a pressure increase due to internal low energy arcing which can result from partial discharge, or high energy arcing resulting from short circuits between phases or between phase and ground. InsuLogix® RFM is easy to maintain and comes equipped with a patent pending pressure relief valve for release of internal tank pressure manually or automatically.
Check out the latest InsuLogix® RFM case study, summarizing an installation in South East, USA. Click here to download!
Click here to see a case study from Texas, USA on how the InsuLogix® RFM and SSK can work together.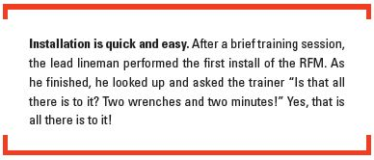 Discover the advantages of the InsuLogix® RFM
Mitigates field personnel risk – the danger of closing into a faulted transformer is reduced with a clearly visible flag indicating a transformer with an over-pressure condition
The device will never activate during transformer testing, transport, or installation
Cost Savings: Reduces outage time and identifies a faulted transformer reducing troubleshooting time
Retrofittable to all transformers with a pressure relief valve – no redesign or opening of tank lid
Maintenance-free
* When combined with the InsuLogix DTM the RFM can transmit fault information remotely.