InsuLogix® SSK + RFM – Deployment on Renewable Pad-Mounted Transformers
Mitigate Risk: Safeguard Assets, Property, Line Crew, and the Public
A customer in central Texas was looking for a safe and efficient method for determining whether or not their pad-mounted transformers had seen an overpressure event at any point in time.
The challenge of using an overpressure fault indicator on this type of transformer is that the indicator is not visible without opening the cabinet door. This means one must take an outage to confirm if an unsafe pressure condition has occurred or is actively occurring. Unless, of course, the fault indicator contacts were made accessible from the outside.
SOLUTION: Combining the Weidmann InsuLogix® RFM (Retrofittable Fault Monitor) with the InsuLogix® SSK (Safe Sample Kit) provides service personnel a safe and convenient way to determine if a pad-mounted transformer has experienced an overpressure event.
InsuLogix® RFM
The role of InsuLogix® RFM is to provide a visible external indication when arcing occurs inside the transformer tank causing an over-pressure condition. The device's red indicator serves as confirmation that a fault has occurred within the transformer, and the unit should not be re-energized for safety reasons. The InsuLogix® RFM is sensitive enough to detect a pressure increase due to internal low energy arcing which can result from partial discharge, or high energy arcing resulting from short circuits between phases or between phase and ground. InsuLogix® RFM is easy to maintain and comes equipped with a patent-pending pressure relief valve for the release of internal tank pressure manually or automatically.
Learn more about InsuLogix® RFM here.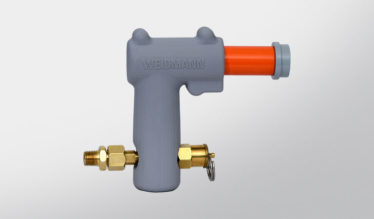 InsuLogix® SSK
The InsuLogix® SSK offers crews safe, secure, and easy access to the transformer oil sampling valve and the headspace nitrogen blanket on the outside of the pad mount transformer cabinet. The InsuLogix® SSK patented technology is easily installed and eliminates the future need for costly outages during routine or emergency oil sampling.
Learn more about InsuLogix® SSK here.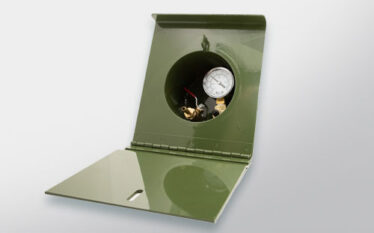 Download Full Case Study